Practising yoga at home is a good option for beginners and seasoned yogis alike. Whether it's the pandemic fuelled new-normal keeping you away from the studio or you're looking for ways to ease yourself into your new year's resolution, setting up your mat in the comfort of your home is a great place to start. But how do you get started with yoga at home? Keep reading for our complete guide.
Creating your at-home yoga studio: what will you need?
Before you get started with yoga at home you must get yourself a yoga mat. A yoga mat isn't just useful in making sure our hands don't slip whilst we get to grips with Downward Facing Dog. Our yoga mats become a space where the mind and body can find some sort of release from daily stresses as we relax, focus on our breathing and look inwards.
However, knowing which mat is the one for you can be a pretty overwhelming task. From different materials and thicknesses to length and texture – the choices really are endless. You may find our yoga mat buying guide helpful in aiding you to make your decision.
Other than a mat, you don't really need any other equipment at all – especially when starting out. However, as your practice progresses, you'll quickly find this will change and there are a few basics that will help transform your experience. If you start to find yourself in this boat, this one is for you – take a look at this blog for our full beginner's guide to yoga equipment.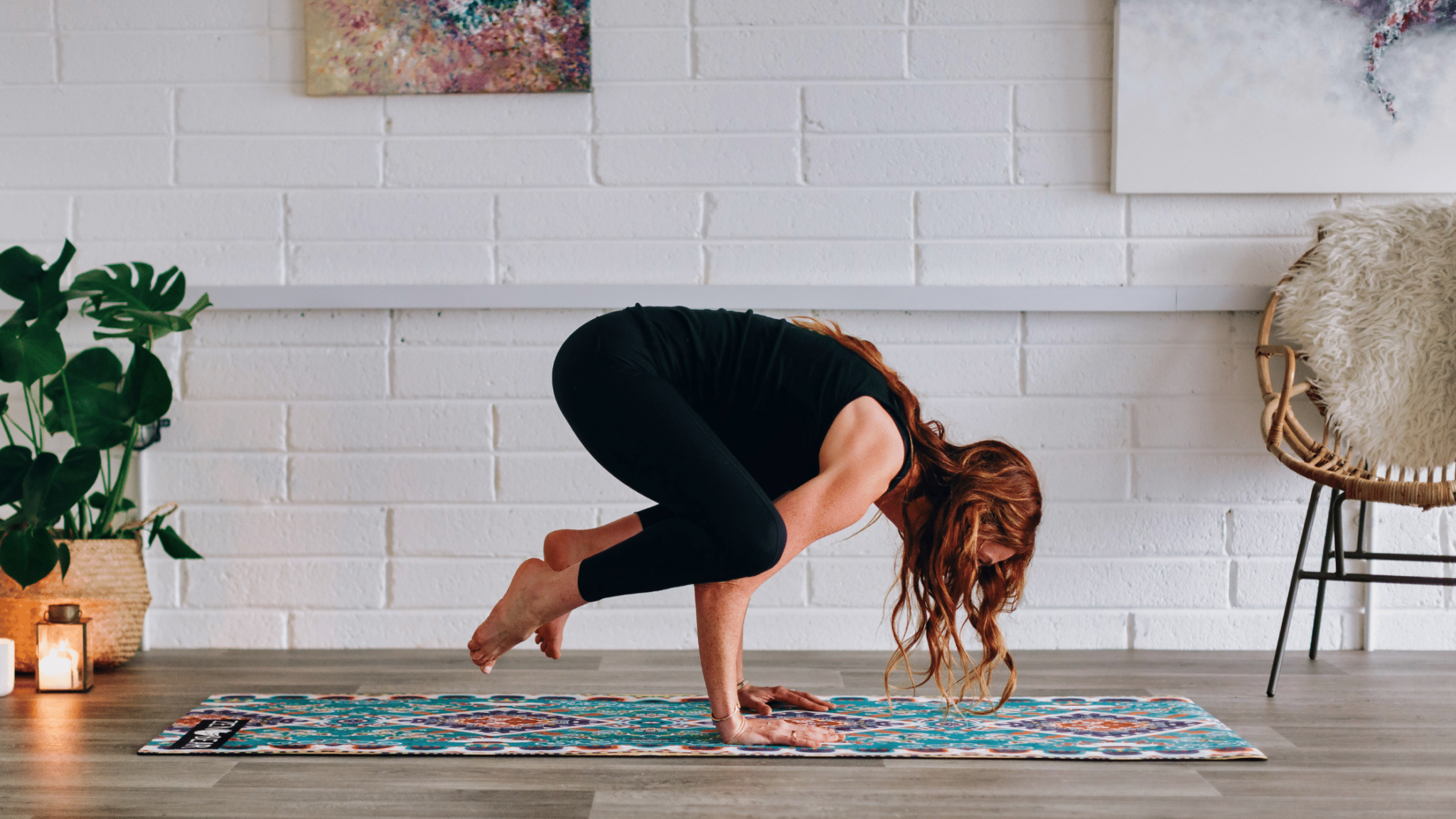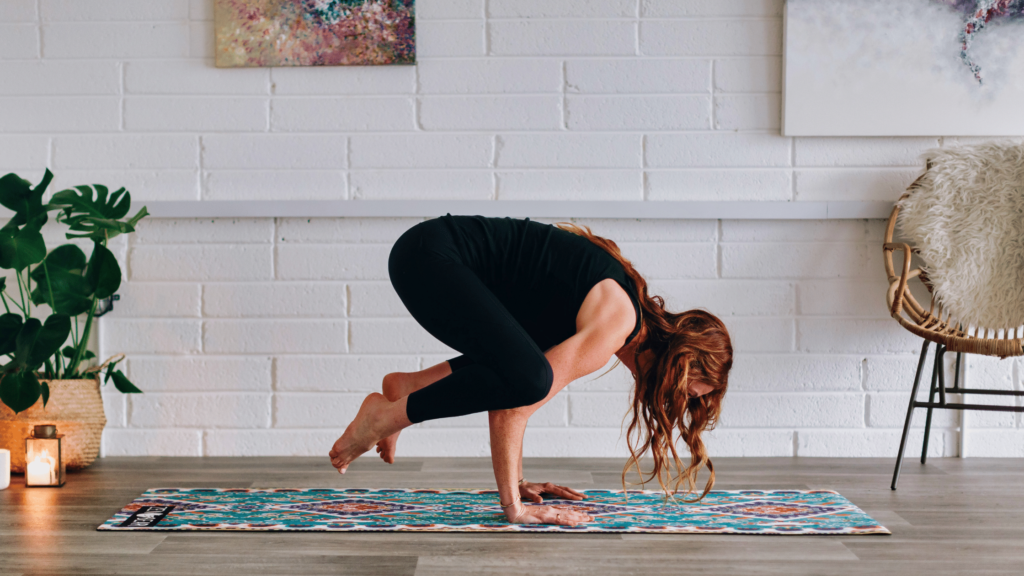 Make the most of your household objects
If you're a complete newbie, you may want to give yoga a go before you commit to spending any money on equipment you may potentially never use again. And this can be done with the help of a few objects you most likely have lying around the house – although we are pretty confident that once you start you'll fall in love with yoga.
For a yoga mat substitute, pick up a beach towel. The added layer between your body and the floor will act as insulation, supporting your flow in and out of different positions. For a makeshift yoga bolster, pillows or cushions will come in handy and you definitely don't need to buy special yoga pants or leggings. Wearing something that you can move in comfortably will do the trick – even if these are your pyjamas.
Set the mood for a good yoga practice
Once you've sourced the equipment you need to get started with yoga, it's vital you set the mood for a good yoga practice. Consider low or natural light, switch on some calming music and light a scented candle. All of these steps will help carve the way for a more mindful and relaxing practice as you create a calming space to enjoy the time spent on your mat.
Read, watch and get to know the basics
If you've chosen to give yoga a go and get started at home, you've most likely read or heard about the incredible benefits the practice has to offer. Perhaps you've come across a few videos on TikTok or YouTube, or maybe you read about it in your favourite magazine. And our advice? Keep reading, listening and watching to discover more and familiarise yourself with the sport.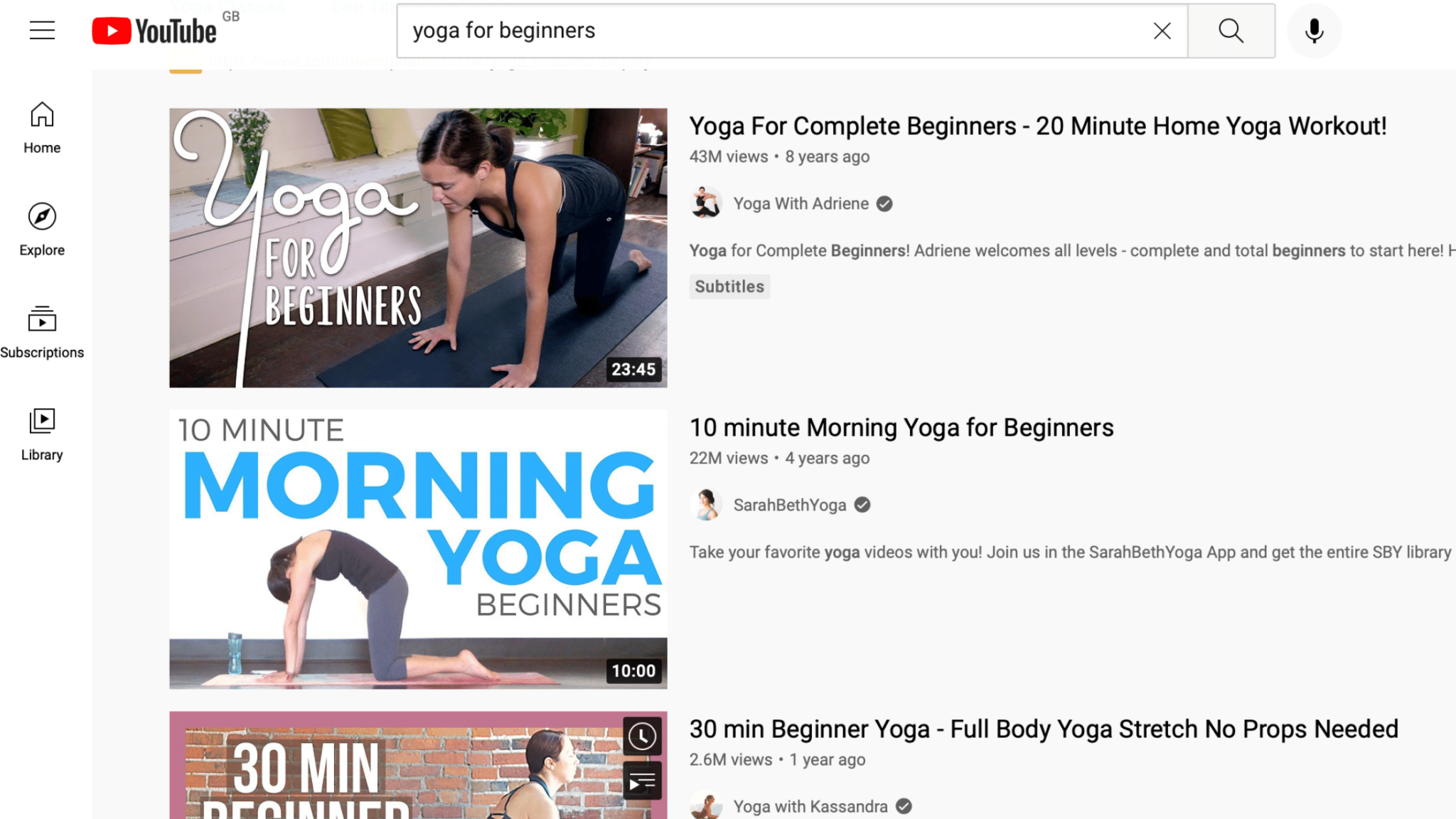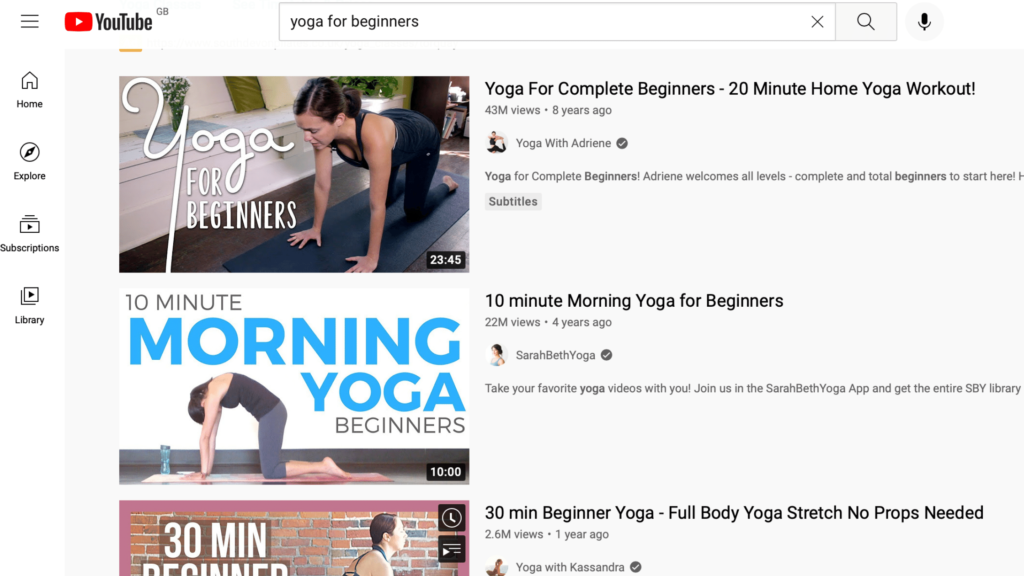 Start with five minutes
Approaching your practice with knowledge of the fundamentals of yoga is a great thing. Get to know a few of the basic positions or meditation techniques to give yourself a head start. Once you have this basic know-how in the bag, you'll be able to dive straight in. Start with five minutes on the mat and enjoy moving your body and relaxing your mind.
But remember – you don't need to be an expert or have everything nailed down straight away. Listen to your body as you move through positions, working each to your limitations to ensure a safe practice.
Try an online yoga class
Once you feel confident moving on your mat, elevate your practice to the next level and make the most of the wonderful resources online. YouTube will be your next best friend, offering you a whole host of free pre-recorded beginner yoga classes right at your fingertips – Yoga by Adriene is a favourite amongst many. Follow along with the guide of a teacher without the fear of attending an in-person class.
Another, often overlooked, avenue to explore and find new routines and classes are apps and social media. One search on the Appstore will bring up hundreds of free yoga apps with basic flows to follow and a little look through social media will deliver content to inspire your practice. Make the most of these free resources straight away.
Making mindful habits and setting goals
Once you start practising yoga, setting goals and creating mindfully habits can be a great way to support your progress. Whether this means reaching for your mat first thing every morning or slowly increasing the length or intensity of your weekly yoga class week on week – it can look different for everyone. The important thing here is to ensure you don't exceed your capacity – both mentally and physically. Avoid unrealistic expectations and always practice safely.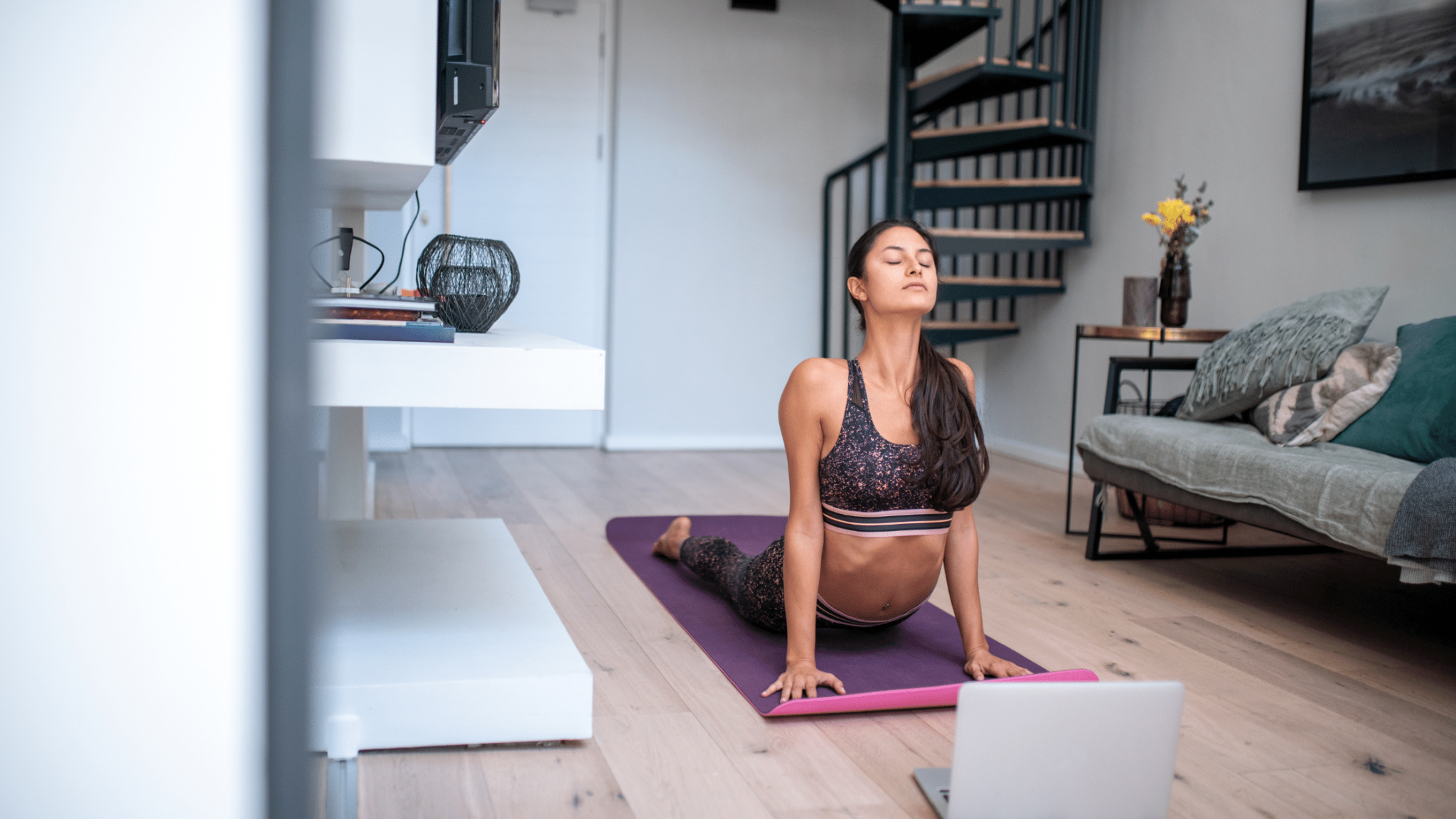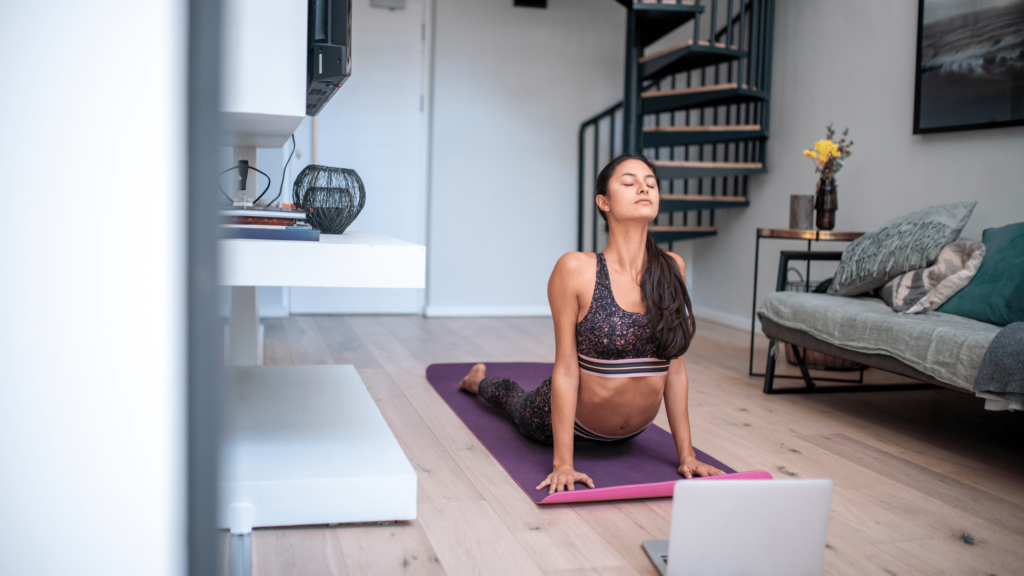 Stick to it and keep going
And finally – if you take one thing away from this blog let it be this: keep going. Practice truly does make perfect and consistency is essential in building up confidence on your mat. Regular yoga practice will allow you truly reap its benefits. From increased strength and greater flexibility to more mindfulness and ultimate relaxation. Start yoga at home today in the comfort of your own space and enjoy reconnecting with both your mind and body.
Take your practice to the next level
You've mastered the art of practising yoga at home so what's next? We recommend an in-person yoga class. You really can't beat learning the ins and outs from an experienced yoga teacher – they are there to support you through your flow, correcting your alignment and encouraging you to stretch deeper. Why not book a yoga class here at our studio in Poole? We'd love to see you there.