Yoga blocks are a great way to extend your practice or help simplify some poses when you are first starting out and have not yet achieved full flexibility. Yoga blocks help bring the floor closer to you; for example, in a forward bend, when you can't quite touch the floor, but it's important for the pose that your palms are flat, a yoga block helps bridge the gap. It's a great way to ensure that you are performing poses correctly and not injuring yourself. The more experienced yogis, yoga bricks can extend poses and help to open up the chest and other vital parts in certain poses. Custom yoga blocks enable you to personalise your yoga practice and could easily be combined with a custom yoga mat to create a unique 'perfectly you' set of equipment for your practice.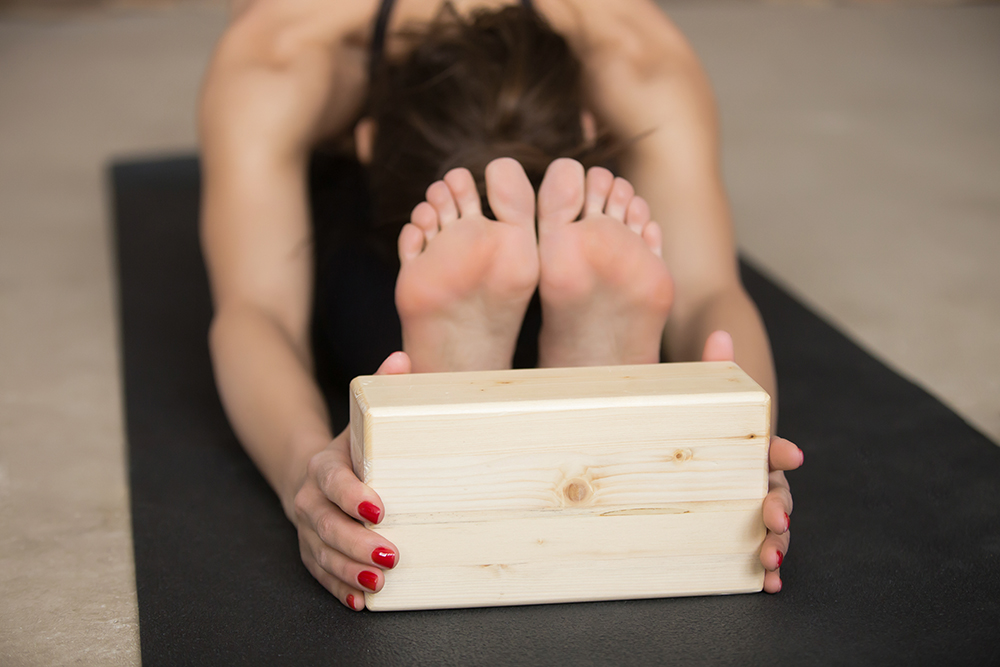 Yoga blocks tend to come in a one size fits all solution. You can also get yoga bricks which are shaped like house bricks. Yoga blocks tend to be wider and flatter, offering three levels of adjustment on any pose. They can be used in a wide range of situations to support any part of the body during any exercise. Used flat, they offer their lowest level of adjustment; stood on the long side, they become taller, and finally, stood on the short side, you get the most amount of support and height on offer. They can be a great tool if you are recovering from injury or just want more confidence when performing a pose.
Custom yoga blocks are also great for ensuring the correct alignment of the body to get the most benefit out of your yoga practice. Iyengar yoga uses lots of props, including yoga, blocks and bricks, belts and straps, but they can be used in any style of yoga if you need them. It's generally best to have two yoga blocks of matching size, especially if you consider placing one under each hand in a forward bend.
In much the same way as yoga mats, custom yoga blocks can be made from different materials, including foam, wood and cork. Generally, foam blocks are perfect for daily practice, but if you're going to be doing any form of hot yoga, including Bikram yoga, you may want to look at cork yoga blocks. These have a natural grip and will not slip as you sweat and get wet. The standard size of a yoga block is 30.5 cm x 20.5 cm x 5 cm; conversely, a yoga brick is 23 cm x 12 cm x 7.5 cm. You will find variations in sizes depending on where you shop, but these tend to be the most popular sizes used in yoga studios all over the world.
The Benefits of Cork Yoga Blocks
We offer custom yoga blocks made from cork, which is the perfect material as it offers an eco-friendly element, a soft field, ultimate grip and optimal comfort. Cork is naturally non-allergenic with antibacterial, antifungal and antistatic properties and no harmful chemicals are used during production. It's a renewable, biodegradable material that is eco-friendly and recyclable, so also suitable for protecting the planet. Cork yoga blocks are very lightweight and don't weigh much more than a couple of pounds. With all yoga props, it is essential to remember that you need to keep them clean but with yoga blocks. You also have to take into consideration that they can get dented or broken over time. This means you need to be vigilant and replace them when they wear out.
Custom Yoga Blocks Design Ideas
When it comes to customising your yoga block, there are plenty of options available. You can let your creativity run wild and design. Something that brings out your uniqueness. There is not as much space on a yoga block as there is on a yoga mat, but you can still team together with the same wording or graphics, provided it fits. Many people opt for a name or initials in order to make sure that they don't lose track of their yoga blocks in a busy class. You could also consider a symbol, and in our yoga mat blogs, we talk about things like lotus flowers and ohm symbols. But the choice is very much up to you. Custom items take a little longer to prepare and deliver, and care needs to be taken to ensure that the pattern is not damaged over time.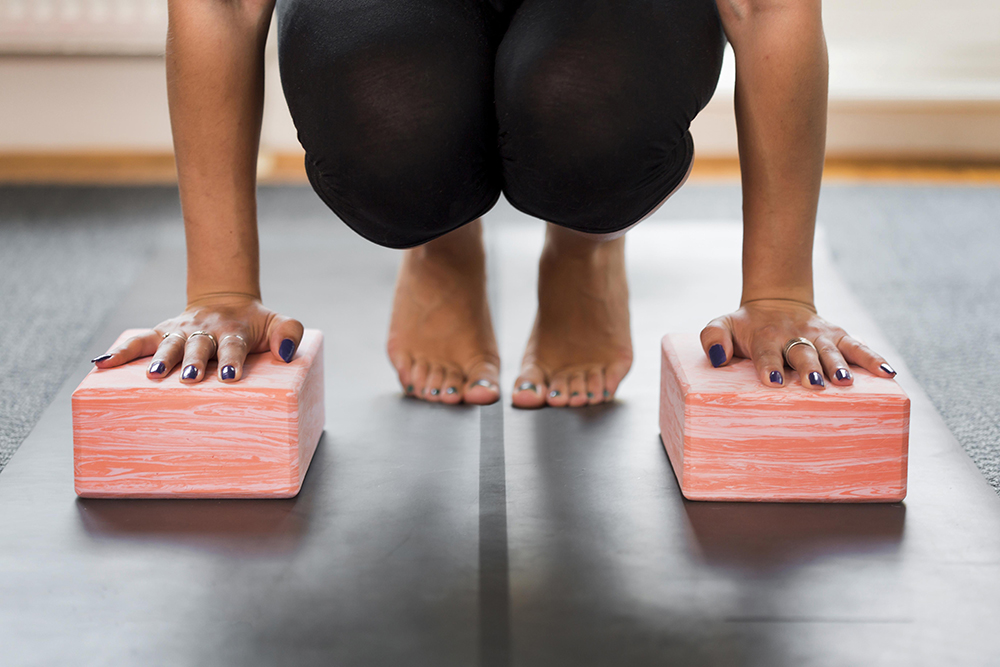 Wooden yoga blocks are generally made from pine, balsa, maple, bamboo, cork or birch. The harder the wood, the more durable, and longer lasting the bricks will be, but of course, they will be very heavy and hard, especially when compared to cork. They are helpful for some yoga poses but will become slippery if your hands are wet with sweat. They can also slide around if not placed safely on a sticky yoga mat.
Foam yoga blocks tend to be the cheapest option and are incredibly lightweight. They are most often found in yoga studios because they are easy to clean and keep hygienic and can be replaced easily. They are great for those who are just starting out and want to make the floor seem a little bit closer in specific exercises. But, of course, they are man-made and not from sustainable or eco-friendly materials.
Custom yoga blocks are not only fun to look at and perfect for personalising but are incredibly useful in many different poses. They are perfect for camel, bridge, triangle, supine bound angle, hero pose, and balancing half moon, among many others. It's probably best to start with a cheaper set of foam yoga blocks to see if they are going to work for you. You could then look at switching to cork or wood, which are more expensive but may suit you better. Whatever your yoga block preference, you will be able to customise it to create something that perfectly matches, your own personal style and look for yoga.