One of the questions we hear a lot in regard to patterned yoga mats is whether they actually serve any practical purpose or are merely decorative and an expression of your personality. Of course, a bright patterned yoga mat gives you a chance to express yourself, but we believe that as yoga ties into Chakras, which is very linked to yoga and the practice of colour psychology, there are actually some really good reasons to pick a yoga mat with a style and pattern that really speaks to you. 
So we're going to explore this a little bit more and help you brighten your practice with patterned yoga mats.
If you are drawn to a red patterned yoga mat, you can find that your energy goes up when you begin your yoga practice. Red is associated with the root chakra and, in colour psychology, speaks of power and ambition. It can really empower you when it comes to mastering new poses and ensuring you are correctly aligned. However, a word of warning because it is a very stimulating colour. It can also make meditation quite tricky. The easiest way to deal with that is to place a yoga blanket or towel over your rug when you are ready to relax and connect with your meditation.
Orange Patterned Yoga Mats
Orange is associated with the sacral chakra and is a very warm and cheerful colour. It can be slightly less harsh than read and create a sense of confidence and self-esteem. Orange patterned yoga mats could be perfect for practice if you feel that you are stuck in a rut and want to push yourself to become more adventurous with your poses. It should not pose any problems when it comes to relaxing or meditating because it creates that lovely sense of warmth, which will make you feel safe and comfortable during your meditation.
Purple Patterned Yoga Mats
If you are drawn to purple, then you are probably quite a calm person with an introspective view of your yoga practice. Purple is aligned with the third eye chakra and brings knowledge and wisdom to everything you do. Practising yoga on a purple patterned yoga mat is, therefore, brilliant if you are looking to increase the depth of your practice. Of course, there are many shades of purple, and if it is moving towards the blue hues, it is moving into feelings of divinity. Violet is specifically aligned with the crown chakra, so if you're looking for something in purple, you have a choice between the crown and the third eye.
Green Patterned Yoga Mats
The heart chakra shares its association with the colour green, and it is also the colour of nature, trees and the Earth, which can be perfect for yoga practice. It's considered a very positive colour, and it helps people feel calm and relaxed. Again you will find various shades of green patterned yoga mats, with lime, green, speaking of spring and fresh growth, and dark green generating a sense of one with the Earth.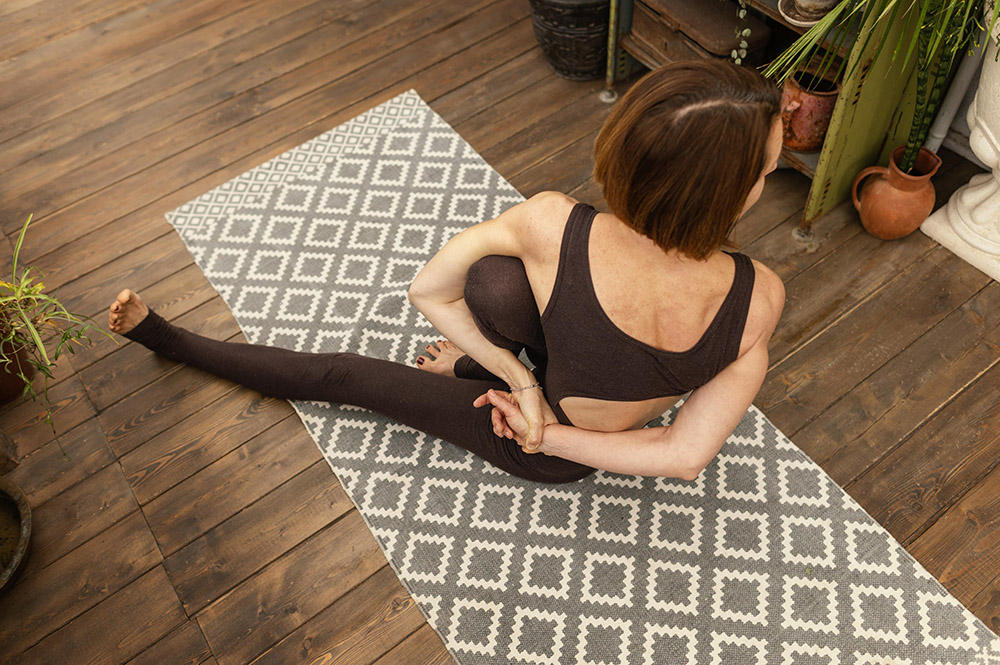 Not only can you find yoga mats in every shade of the rainbow, but the patterns vary too. A lot of patterned yoga mats are decorated with images that fit yoga and its roots. For example, elephants, Lotus leaves, and other images from nature. There are also abstract yoga mats, and these can be really helpful during meditation if you are having problems focusing your mind. Staring at the abstract pattern can create a sense of focus that you might otherwise be lacking. When it comes to choosing a pattern, it's probably best to go with something in the colour you feel most drawn to that appeals to your aesthetic and will make you happy while you are practising yoga.
Patterned Yoga Mats with Alignment Lines
Another common theme with patterned yoga mats is the addition of alignment lines. While it might just look like an abstract pattern, these actually serve a valuable purpose when it comes to creating correct posture and alignment in your yoga poses. It can be really useful to ensure that your hands or feet are placed level on the mat, and many swear that it
enhances their yoga practice to know that they have markers to help them achieve the correct position.
Custom Patterned Yoga Mats
Of course, if you are looking for a patterned yoga mat and are not totally convinced by any of the designs that you have found, you can always look at custom patterns yoga mats. It is increasingly popular for people to design their own, particularly if they have a yoga studio, as it helps create a brand. However, it can also be perfect for individuals who want something truly unique out of their yoga mat.
Here are a couple of ideas to get you started
Yoga Studio Designed Sticky Yoga Mat 6mm – Sage Green Mat – Paradise Palm
Yoga Studio Designed Mats Feature Fantastic Prints. Our 6mm Deluxe Yoga Mats are made To European Standards, and they are made from the latest environmental polymer resins. All our Design Mats are 6-P Free, Free of Phthalate, AZO, DOP, Phenol, and Heavy Metals. ie No Nasties at all! making them a great mat for children and pregnant women.
Gaiam Reversible Elephant Yoga Mat 6mm
Choose a lively elephant on a serene sea of blue or an ancient paisley motif on a vivid yellow backdrop, letting you mix it up for every use. Available exclusively from Gaiam in a premium 6mm thickness that offers cushioned support and stability.
The texture of this mat is made from no slip, grippy material, keeping you in place during any pose. Made without the six most harmful phthalates, this mat is a healthier choice for you and the planet!