If you've not done a supported child's pose using a yoga bolster, you're missing out on one of the most affirming, soothing and comforting yoga poses there are. But yoga bolsters are also excellent tools for providing support and enabling mastery with more complex positions too, gradually training and encouraging your flexibility. However, the world of the yoga bolster can suddenly seem very complex, especially if you're buying online. So here we dive into everything you need to know about bolsters and how to choose the best yoga bolster for you.
The modern yoga bolster is believed to have come into being by yoga teacher B.K.S. Iyengar in the 1960s, but we're seeing it much more widely used now that yoga is booming in popularity.
Different types of yoga bolster
As we say, the best yoga bolster will be reasonably firm and about 60-65cm long. The fillings can differ and this affects the weight and texture. Whilst all bolsters are reasonably firm, some are designed to be firmer or softer than others, depending on their purpose and the preferences of the yogi.
The round bolster.  The classic bolster is cylindrical. This mirrors the natural curve of the back of the neck when lying on your back. If your goal is to create a natural curve in your stretch or body, then round bolsters will provide excellent support. Round bolsters are also excellent for expanding the space in your chest, wonderful for deepening meditative deep breathing. If you've been practising yoga for a while you will almost certainly have seen a round bolster being used under the knees for Savasana.
The rectangular bolster. The other popular bolster shape is called the rectangular bolster. These bolsters aren't usually as angular as their name suggests, but more a flattened version of the round bolster. As such, rectangular bolsters are typically lower in height and provide a more stable support. They allow you to achieve a deeper fold into a pose, especially if you have previously built flexibility using a round bolster.
Once a yogi has realised the benefits of a bolster, they rarely stick to just one! You tend to end up with favourites for different poses, and find that you gradually move from one to the other. Beyond the shape, you'll notice variations in size, filling, weight, fabric and pattern.

There is no right or wrong here – each serves a different purpose. Smaller bolsters are handy for stashing away between use, and for grabbing to take to a class. However, they don't always match the shape and needs of your body, when a longer or fuller bolster may be better.

Again, lightweight fillings mean you can take the bolster anywhere, but heavier buckwheat fillings are firmer, more supportive and mould to the contours of your body with greater consistency.

Fabrics and fillings affect durability. Removable covers that you can wash are useful. And of course, the pattern and colours may be important to you.
What's the point of a yoga bolster?
There are lots of reasons why you may want a bolster or two. Yogis get very attached to their bolsters and won't want to be parted once they've found the best yoga bolster for them!

Bolsters are particularly beneficial in both restorative and pregnancy yoga. In these situations, extra support and comfort is invaluable and the right bolster will provide this.

You'll also find that a yoga bolster pillow is fantastic with various different poses. We wouldn't be without a bolster for:
Balsana (child's pose) Really, we'll say it again: if you've not done Balsana over a lovely round bolster then you're missing out on the comforting joy of a softened body and soothing breath. It is yoga's hug and it's restorative and calming.
Viparita Karani (legs up the wall pose) There's something so incredibly restorative and centring about Viparita Karani, but holding the pose for a good length of time can prove hard work on your lower back and pelvis. When you get into position, shuffle a bolster under your hips and pelvis. You should find that this enables you to stay in the pose for longer.
Which yoga bolster should I choose?
Limiting yourself to one yoga bolster is probably not the right outlook! Most yogis we know have their collection of two or three (or more) bolsters that they swap in and out for different reasons.
 However, if you are new to using a yoga bolster, and you want to try one out to see if it works for you, or you just want one which you can grab and go with, then we recommend the Organic Buckwheat Lotus Bolster.
This is a brilliant beginner's bolster as well as being incredibly versatile for experienced yogis. It's very supportive and the buckwheat moulds to your body whilst providing enough weight for stability.
 Beyond this excellent basic bolster, here are the best yoga bolsters that we enjoy:
Yoga Studio European Rectangular Lightweight Bolster This Yoga Studio European Rectangular Lightweight Bolster is an excellent first rectangular bolster or a mainstay of your collection.
 It's lightweight, robust and it has a washable cover, which makes it perfect for using both inside and outside the home. It's really helpful for gaining flexibility and increasing stretches. Those looking for a rectangular yoga bolster for restorative sessions will find this a perfect choice and the curved edge is supportive of your neck. You can vary the amount of filling so that you get the right density for you.
Yoga Studio European Rectangular Lightweight Bolster
Filled with Recycled 65% Cotton, 35% Polyester from Europe.
Removable 100% Certified GOTS Organic Cotton Cover. Machine Washable.
Add or remove filling to your desired density.
Features a strong YYK zip and a useful carrying handle.
Compliant with UK Furniture & Furnishing Fire Regulations.
Tried and Tested by Yoga Studios, Teachers, Yoginis and Yogis worldwide.
Size/Weight: 63cm x 28cm x 16.5cm x 2.27kg.
Manduka Round Enlight Technology Bolster The Manduka Round Enlight Technology Bolster is great for those looking for a classic shape with excellent Manduka features. It's relatively soft and plush for a bolster and uses the Manduka eQua micro-fibre washable cover to ensure moisture is wicked away. The zips are flush and tucked tight and the recycled polyester fibre core makes this bolster really light.
Manduka Round Enlight Technology Bolster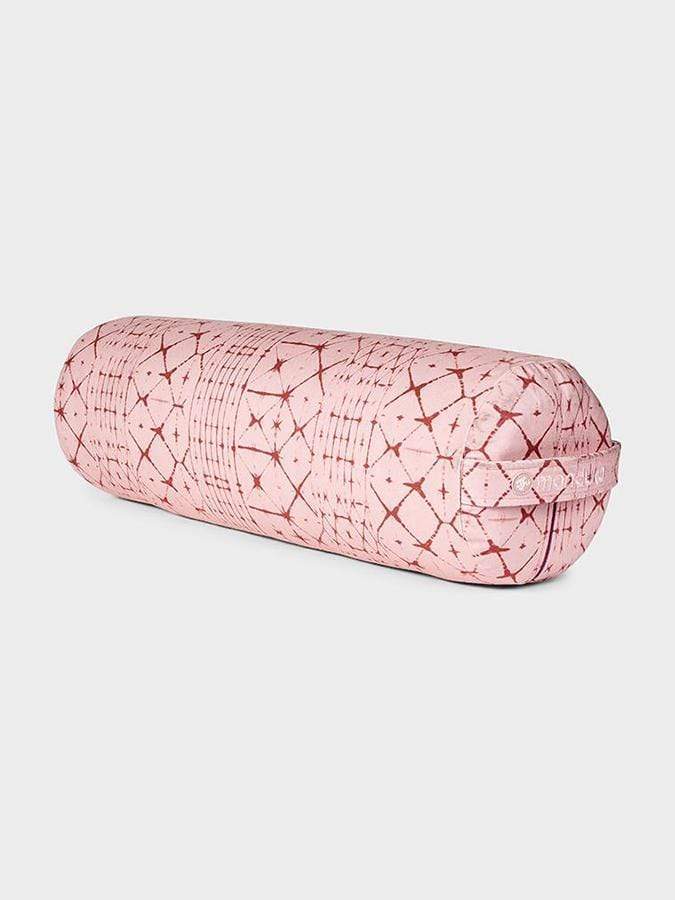 1kg; 27″ x 9″  
Soft, plush, absorbent eQua micro-fiber fabric cover keeps you dry and comfortable.  
Hidden zipper construction for a smooth, seamless finish.  
Cover is removable for easy cleaning.   
Convenient, sturdy, easy-carry handle with faux-suede logo detail.
30% recycled polyester fiber core.
Yoga Studio EU Pranayama Recron Meditation Bolster The Yoga Studio EU Pranayama Recron Meditation Bolster is a fantastic small rectangular bolster perfect for meditation. As with all Yoga Studio own-brand bolsters, you can add or remove filling to get the ideal density for your needs. The organic cover is easy to wash. The Recron filling is modern yoga innovation at its best. It's firm but also comfortable and gentle.
Yoga Studio EU Pranayama Recron Meditation Bolster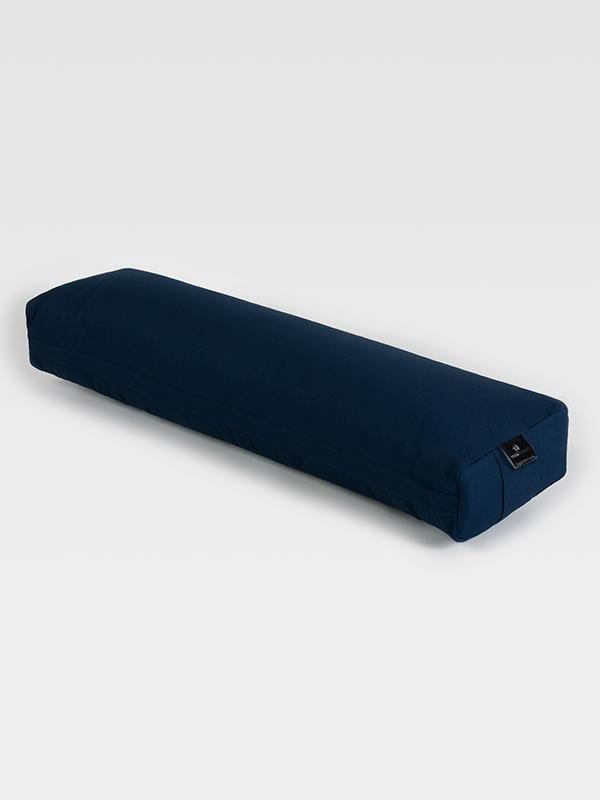 Filled with Recron filling which provides firmness throughout use whilst giving gentle and comfortable support for your practice.
Removable 100% Certified GOTS Organic Cotton Cover. Machine Washable.
Add or remove filling to your desired density.
Features a strong YYK zip and a useful carrying handle.
Compliant with UK Furniture & Furnishing Fire Regulations.
Size/Weight: 63cm x 18cm x 10cm x 1.26kg.
Yoga Studio EU Organic Buckwheat Bolster
Yoga Studio Organic Buckwheat Designed Round Bolster – Nature Collection The Yoga Studio Organic Buckwheat Designed Round Bolster is a fabulous at-home bolster. Being buckwheat filled, it is heavier than some other bolsters but there are times when this added stability and support is exactly what you are looking for. The organic buckwheat is unrivalled when it comes to moulding perfectly to fit your body. Not only that, but it doesn't lose its supportive properties over time. The cover is 100% cotton and can be popped in the machine to wash.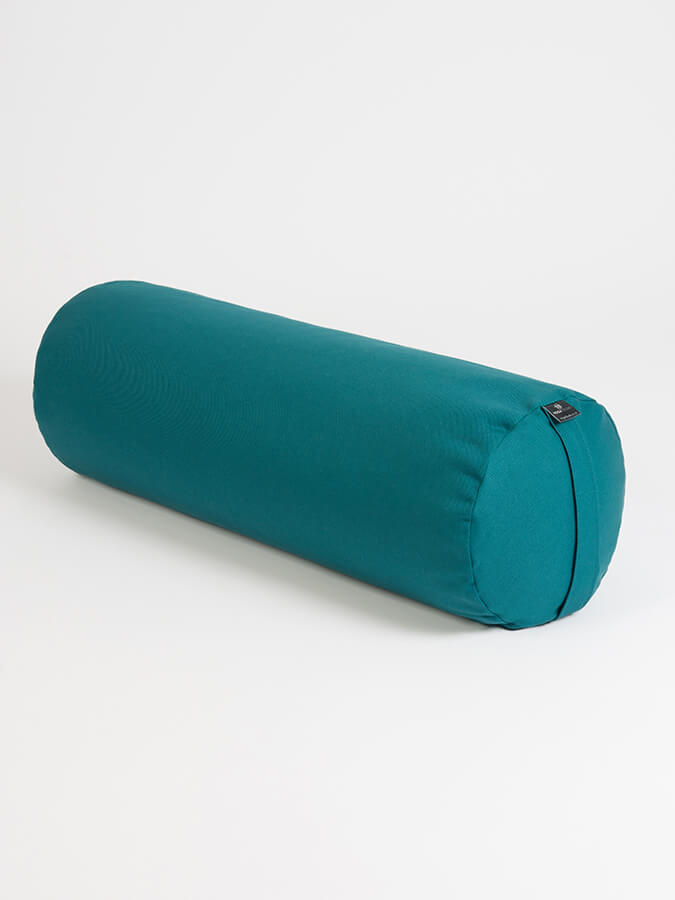 Our Yoga Organic Bolsters have been Hand-Made in the EU using extremely high grade, clean and organic buckwheat hulls.
Material: 100% Cotton, zipped, machine washable inner and outer cases.
Filling: 100% High Grade, clean and Organic buckwheat hulls.
Approx. Size: 240mm x 620mm.
Approx. Weight: 5kg (Bolster weights may vary).
Made: Hand-Made in the EU.
How to look after your bolster
With good care, your bolster should last a long time. Generally speaking, some bolsters lose their shape and support over time, so take care to know when it's time to replace it. Buckwheat bolsters hold their shape for longer but their weight can be tougher on seams! Recron filling is a good half-way house as it holds its shape but is lighter. The care instructions for your bolster will depend on the filling and its cover material. Follow these with care. For example, all Yoga Studio bolsters have organic cotton covers which can be machine washed with ease. Other manufacturers may have washable covers but you may need to wash them in cool water by hand.
When you browse different yoga bolsters have in mind your yoga practice. If you're new to choosing a bolster then we recommend going for a cheaper option filled with buckwheat or recron. With both of these, you can remove some of the filling to change the density, so that it really fits you.