Did you know that over 10 million yoga mats are sold annually? That's a massive amount, and little wonder that there are many different options to choose from. Yoga has many significant benefits for the body and mind, so it's a little wonder that many people choose it as an exercise discipline that happens to come with added extras. The fact that yoga is so popular has led to the explosion of yoga mat design, with custom yoga mats being just one of the options you can choose. It is the only piece of equipment you need to start practising yoga,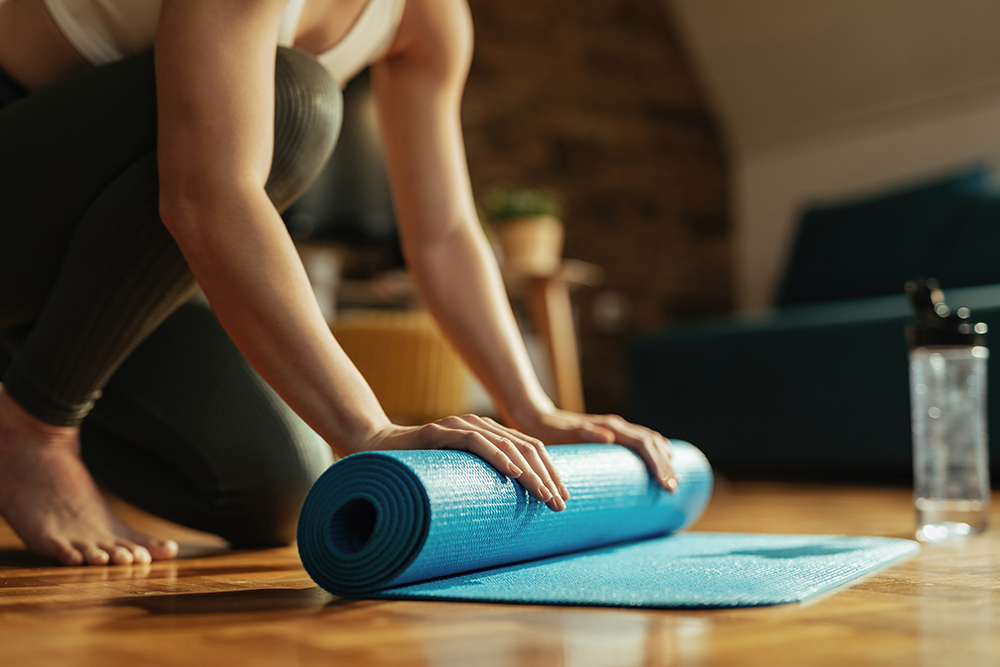 so it is worth investing in a mat that you like the look of but also meets the criteria for the style and type of yoga you will be doing.
Standard yoga mats come in a wide range of shapes and sizes, with varying thicknesses, depending on your yoga practice. A standard mat is around 24″ x 68″ with extra long mats, coming in at 72 inches. To cater to the needs of everyone, you can also get wider mats, as well as those that are even longer. Thicknesses vary, between 2cm and 6cm and again, the mat that suits you best will depend on what style of yoga you are doing. 2cm mats do not offer much padding between you and the floor and are generally considered to be suitable for travelling. 6cm mats and over are considered thick and offer a good level of comfort, but can impede some poses because they have too much depth. 4cm is a great place to start if you're just setting out, and the good news is that this is suitable for nearly all types of yoga.
Custom yoga mats allow you to create personalisation by having designs or text printed on the surface. There are various services available that enable you to have anything from your dog's face to a yoga mantra to inspire you as you exercise. This makes it easy to show off your style at your yoga class. There are lots of things to consider when customising your yoga mat, and you should not sacrifice the material of the mat to have a pretty pattern. Thankfully, there are plenty of ways yoga mats can be printed, depending on what they are made of. So with a bit of research, this shouldn't be a problem at all. Some people like to match their custom yoga mats with their favourite yoga clothes; for others, it is all about creating
colours and patterns that help focus the mind and inspire them as they progress the yoga journey.
Tips for Creating a Custom Yoga Mat
If you're planning to have writing on your custom yoga mat, consider the typography. It's better to go for bold and minimal fonts, keeping the wording relatively large and the phrasing quite short. Otherwise, you can run the risk of it not being clear, which can be a massive distraction when you are trying to practice. If you are thinking about creating images that will help focus in mind when practising yoga. Nature is always a good place to start. There are many symbols associated with yoga, including the Lotus flower and many people find the beach and the sea calming, so these could also be very popular choices.
Other people like to go for something more abstract, and colour blocking or geometry can help focus the mind and create a clear space in which to meditate. Guard against anything too chaotic, as this can stress your brain and make it impossible to relax. Some custom yoga mats use lines and markers to determine hand and foot placement in certain poses, which could also be useful, especially if you are just starting with your yoga practice. You could choose a design that stretches across the whole length of your yoga mat or something more contained at one end or in the middle. The beauty of custom yoga mats is that it is totally down to you to build something unique that compliment your styling and will help you enjoy your yoga practice even more.
The other consideration that you will need to consider when it comes to custom yoga mats is the material of the mat you hope to use. There are many different printing techniques, and a lot can be accommodated, so it's perfectly reasonable that you'll get your ideal yoga mat printed with a pattern of your choice.
Custom yoga mats are a great way to enhance your practice and show off your style at yoga classes. There are many different ways of personalising your mat and creating the most appropriate workspace for you.